15W LED Solar Street Light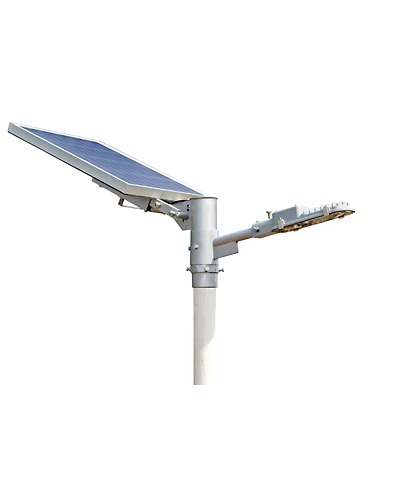 Made In India

15W LED Solar Street Light
Write a Review
LUMINAIRE
SYSTEM WATTAGE( LED + DRIVER) :15W
SYSTEM OUT PUT(AFTER ACCOUNTING ALL LOSES) : 4000 Lumens
LED LEVEL EFFICIENCY :200 LUMENS/WATT OSARAM GW JDSTS2.EM Led
LED LIFE :50,000 Hours
DRIVER EFFICIENCY :85%
DRIVER TYPE :DC-DC
TOTAL SYSTEM WARRANTY :3 YEARS WARRANTY
HOUSI :IP 65 ALUMINIUM DIE-CAST HOUSING, IP66
LUMINAIRE ARM :Powder Coated
SOLAR PANEL
CAPACITY :50 Wp
SOLAR CELLS :POLYCRYSTALLINE SILICON CELSS
SOLAR CELL EFFICIENCY :13.50%
JUNCTION BOX :IP65, IP66
MOUNTING FRAME :POWDER COATED
COUNTRY OF MANUFACTURER :INDIA
BATTERY AND BATTERY BOX
CAPACITY :18000 mAh LIFePo4 BATTERY
TYPE :Lithium Ferrous Phosphate Battery
PERMITTED DEPTH OF DISCHARGE :70%
BATTERY BACKUP :12 HOURS
MOUNTING POSITION :IN BUILT BOX WITH P.V. PANEL STRUCTURE
BATTERY BOX MATERIAL & PROTECTION :M.S. SHEET WITH POWDER COATED 1 mm THK
CHARGE CONTROLLER
TYPE :PWM Based
RATING :12.8V NOMINAL, LOAD 2.1A MAX.SMPS FOR LED LOAD
EFFICIENCY :85%
STAND BY CURRENT :OUTPUT VOLTAGE DROP<200mv at 2.1A LOAD, INPUT VOLTAGE
DROP<330MV AT 5A CHARGE
ENCLOSURE :IP65, IP66
PIR Motion Sensor :YES
POLE
TYPE :MS GALVANIZED POLE/ OCTAGONAL GALVANIZED POLE
HEIGHT :5 MTRS Above ground
WIND SPEED RESISTANCE :170 kmph
SYSTEM REQUIREMENTS
DUTY CYCLE :4hrs Full 100% and Rest 8 Hrs 50%
SYSTEM PROTECTIONS :OVERCHARGE PROTECTION FOR BATTERY
DEEP DISCHARGE PROTECTION FOR BATTERY

REVERSE POLARITY PROTECTION FOR PANEL AND BATTERY
TEMPERATURE COMPENSATED CHARGING FOR BATTERY
LIGHTNING PROTECTION
INDICATIONS :CHARGE INDICATION THROUGH GREEN LED INDICATION
DISCHARGE INDICATION RED LED
BATTERY UNDER VOLTAGE RED LED ON/OFF
Additional Information

Some Features are

· Top Quality at Lowest Price plus Guarantee of Service

· 200 lm/w (OSRAM LED) Brightest in the market.

· 3 Years Warranty on complete system "BEST IN CLASS"

· Lithium Ferrous Phosphate (LiFePo4) batteries with latest BMS technology (BIS Approved)

· Working life of more than 10 years

· 100% Made in India

· Zero Maintenance

· Anti-Theft system

· Auto Dusk to Dawn operations

· Latest PWM technology.

· High Efficiency PV. Panels (MNRE Approved)




Some Salient features: Can Fit on any Pole, 360-degree rotation of PV Panel and Luminary individually, All weather ready, Unique design, Easy to install, LiFePo4 Batteries for long life and better performance, Zero Maintenance, Brightness Luminary.




Other features include.

· All in one integrated design.

· Automatic Dusk to dawn.

· Completely maintenance free

· Auto dimming function after 4 hrs

· Over Charge and Over Discharge protection

· Lightning protection · Backup of more than 12 hrs

· Fits on any pole · No Wiring hassle just plug and install

· Works in any climate · Bright Light with more lumens (200 Lumens/ Watt)

· Theft free · IP65, 66 Protection · 3-years Manufacturer's warranty which is the best in the market.

· System Integrated with LiFePo4 Battery for Longer life and Maintenance free operations.